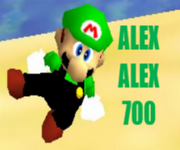 AlexAlex700
, or now known as
Greenex
is a
Windows Movie Maker
machinimist who is an old
Youtube Ranger
. His bloopers have some adult themes, some copyrighted music, which was a problem over the past year and jokes. He started making bloopers in November 4,2012, which is also his birthday. 
Youtube Ranger Join Info
AA joined the Youtube Rangers in August 2013, got kicked in the same month, and joined back in September 2013. He quit the group entirely in October 2013.
History Timeline
July 1,2012 - Created YouTube Channel
July 1,2012 - Started making Roblox Bloopers
November 4,2012 - Made First Blooper, Called "The Pizza is a Lie"
July 1,2013 - Celebrated 1 Year on Youtube
Some time in 2013 - Account terminated, new account opened called 2ndAlexAlex700.
August 2013 - Joined Youtube Rangers, Got Kicked.
September 2013 - Joined Back in YTR
October 2013 - Quit YTR Entirely
Blooper Appearences
Alex has appeared multiple times in Chillius03's bloopers. Starman3 said he will appear in his bloopers, but he never did. He makes a cameo in SMG4's vids, appearing in "A fungus among us" and a ssenmodnar episode.
Friends
(in friendship order)
Chillius03
Sept
AKS
Pictures
Ad blocker interference detected!
Wikia is a free-to-use site that makes money from advertising. We have a modified experience for viewers using ad blockers

Wikia is not accessible if you've made further modifications. Remove the custom ad blocker rule(s) and the page will load as expected.