LucarioMario7 is a member of YTR. LM7 or Cyrus as YTR calls him, as made a lot of friends during his time in YouTube Rangers. He and SM3 have been best friends for a while now.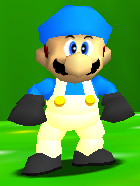 He used to be a member of YTR a few years ago in 2009, with him and SM3 being best friends, but him and SM3 had a fight over a few years after.
However, in 2013, he slowly started to talking to SM3 again and became a full member of YTR again, in fact becoming one of the co-leaders of the group, and one of SM3's best friends once again.
Appearances as a Character
Edit
He commented on his doppel at the end.
He appears in episode 4 of SM64 Adventures where he defends Brynn from Smus's remark.
He appears when Pink comes to Blooper Land. He appears to not have been trapped beforehand, however, he seems to be very concerned with where SM3 is, and wonders how Pink knows of his whereabouts. After MarioMario54321 agrees to Pink's request, he agrees with MarioMario, ready for the adventure.
He goes to Bob-omb Battlefield and saves MarioStar92, CostarGamerZ, BeatMax Sakuraba, dshaynie and Jackx20yz. He is known to be in that room with the YTR members he saved.
Appearances as a User
Edit
He appears in Roblox Goes Crazies 14, 15, 16 and 17. He doesn't appear in any more after.
He first appears in episode 4 getting at Brynn with the various lines they threw at each other.
He next appears in episode 5 getting at everyone when they go crazy. He also makes a slight joke with Cdrom1019 in the video.
His next appearance is in episode 7, where he makes remarks about Branden being the next Captain. He actively participates in the conversation throughout most of the video.
He appears in episode 10, where LuigiFan tries to get a majority of his attention.
He next appears in episode 12, going at Matt for a number of instances.
He appears in short 10, when he agrees with LuigiFan's statement.
Counterparts
Edit
Fourth Dimensional counterpart:
Star World counterpart: